3 High Potential Opportunities In Today's Expensive Market
Note that this research is performed between 2020-10-02 and 2020-10-07, prices could be different compared to the time of reading.
The current market is expensive, with the S&P 500 index (SPY) trading at a forward P/E ratio of 21.5x, the highest level in 20 years. Consequently, many investors are hesitant to buy stocks as they believe there are few bargains in today's market.
It's important to understand that the recent strong performance is, more than ever, concentrated in a small portion of the market. On the contrary, there are many stocks that are trading at undervalued levels. I believe that picking out the winning stocks from this undervalued group today will generate strong long-term returns. In this article, I will discuss three areas in the market where I believe opportunities are the highest right now, explained with some interesting stock examples in these areas.

(Source: JP Morgan Asset Management)
What happened in 2020
Significant divergences in returns
Let's discuss the market environment in 2020 to provide the full context. Despite its weak performance in September, the Nasdaq (QQQ) outperformed significantly, yielding +29.6% year to date compared to +4.6% for the broad S&P 500 index and -2.2% for the value-oriented Dow Jones (DIA) index. This is caused by strong momentum for growth/tech stocks which are seen as beneficiaries of the economic shift during the COVID-19 crisis.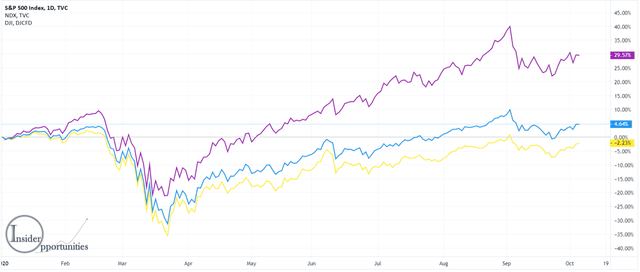 (Source: Insider Opportunities with Tradingview)
Is this divergence also visible on the individual stock level? To answer this question, I performed research on the stocks in the S&P 500 index. Not surprisingly, the year-to-date standard deviation of these S&P 500 stocks was significantly higher compared to the past five years:

(Source: Insider Opportunities research)
Even more astonishing is the histogram below, which plots the excess returns of all S&P 500 stocks compared to the S&P
…
Read the rest