Weekly CEF And Market Commentary: Sept. 28, 2020
(This report was released on Sept 27. All data herein is from that date or prior.)
Macro Picture
Large caps are now in correction territory, having fallen 10% from the recent peak of Sept. 2. The correction started with some high-flying tech stocks falling back. We have gone through the dynamics of what drove those stocks up – and back down in prior writings. The one bright spot was Nike (NYSE:NKE) which reported a sharp rebound in sales this summer.
Then we have the uptick in COVID-19 cases, especially in Europe. Here's the First Trust COVID Tracker which has a ton of updated information on the virus. This increase in Europe – with the potential for more lockdowns and contracting economic activity – is weighing on markets.
Lastly, the death of Supreme Court Justice Ginsburg has thrown a monkey wrench into the stimulus talks. The prospects of a new deal were slim on Monday and Tuesday but perked up late in the week as details emerged of discussions between Nancy Pelosi and Treasury Secretary Steven Mnuchin. A new $2.4T deal emerged which is likely a starting point of new negotiations. The major indices rallied on the news on Friday.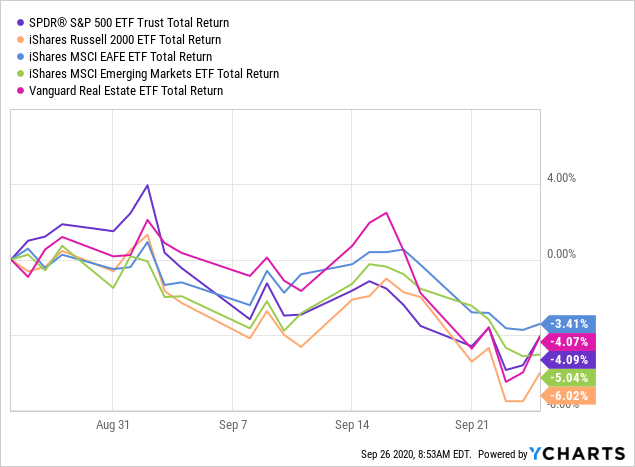 From JPM:
Equities continue to experience their deepest correction since bottoming in March, but focusing only on stock market declines misses the equally-important erosion in cross-asset correlations that has emerged this month. Few of the safe assets are moving in the expected direction: USD is up 2% versus EM FX and 10Y German yields are down 10bp, but US 10Y & 30Y yields, USD/JPY and EUR/CHF are almost unchanged. Gold is off 6%. So a typical basket of defensives is functioning about as well as fire insurance that covers just one bedroom in the house. This risk-management problem
…
Read the rest