OptimizeRx: Highly Dependent On Legacy Low-Tech Advertising Platform With Ample Concerns On Financial Reporting (NASDAQ:OPRX)
OptimizeRx (OPRX) is a stock that many stripes of investors could love. They appear to be a small cap company in a solid uptrend with a history of double digit revenue growth.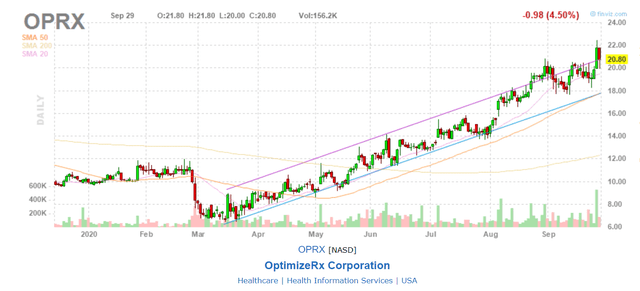 Source: Finviz.com
And the most exciting part is that they look to be an up and coming telehealth name akin to Teladoc (TDOC) but with the caveat that they have largely flown under the radar of big institutional investors.
Things are unfortunately a bit more complicated at OptimizeRx, with the largest issue being that we have very real reasons to be concerned with the accuracy of OPRX's financial statements. But first I will parse OPRX's flowery description of their business and demonstrate that they are largely a simple advertising company that provides digital coupons.
Clipping coupons does not = the next Teladoc
Below is language from OPRX's latest 10-k describing their business:
We are a digital health company focused on connecting life sciences companies to our clients with critical content at the point-of-care. We provide electronic clinical information via electronic health record companies (EHRs) to the medical profession, providing a direct channel for pharmaceutical companies to communicate with healthcare providers. Our cloud-based solution supports patient adherence to medications by providing real-time access to financial assistance, prior authorization, and critical clinical information. Our network is comprised of leading EHR platforms and provides more than half of the ambulatory patient market with access to these benefits within their workflow at the point-of-care.
Source: 2019 10-k
This certainly sounds like the ground floor of the hot telemedicine industry. But the description still leaves one a little confused about the most fundamental question of "how does this company make money"?
Before completing one acquisition in 2018 and another acquisition in 2019, OPRX was generating close to $20M in annual revenues, the majority
…
Read the rest