Lindsay Hoyle: a palace down south? I'd rather be in Chorley market | Commons Speaker
Lindsay Hoyle is in high spirits as he reels off a list of challenges that the past 12 months have thrown his way, since he became Speaker of the House of Commons last November. "No sooner had I been elected than we went into a general election," he says. "Then in the election I decided to develop Type 1 diabetes.
"Then it was Brexit. Then Brexit was whisked off platform one, and along came Covid."
After his elevation and following almost 10 years as a deputy in the Commons chair, Hoyle, the MP for Chorley, moved into the Speaker's large, splendid residence in parliament. It was all fine decor, huge rooms and wonderful paintings, which might sound like a perk. In reality, he suggests, it has proved to be anything but. "It would be nice if that was the case," he says in his rich Lancastrian accent, hooting with laughter. "I have had to bring a cat because of all the mice. So Patrick comes with me. At the moment there are works on fire safety, and asbestos is being removed, so it is not the best time to be around to be quite honest.
"And we had a water leak with major water damage that's bought the ceiling down [in the residence above the state rooms]."
"So," he points out to those who might think he is living a pampered life down south like royalty: "I wouldn't get too carried away!"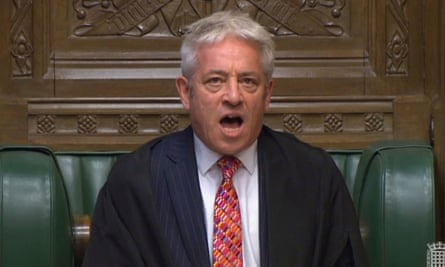 Former Speaker John Bercow calling the House of Commons to order with his familiar roar of "Orderrrrr".

Photograph: House of Commons/AP
As he approaches his first anniversary in the job, Hoyle is already stamping his style on the Commons. Where his predecessor, John Bercow, became a global celebrity for crying "Orderrrrr Orderrrrrrrr" during interminable Brexit debates, Hoyle
…
Read the rest