Tesla's Model 3 Lost In The World's Most Advanced EV Market In A Peak Month (NASDAQ:TSLA)
Introduction
Norway is a small automotive market but is widely regarded as the most advanced market for electric vehicles (EVs) in the world thanks to generous government incentives. Battery electric vehicles (BEVs) and hybrids accounted for over 80% of sales in September 2020 and the national parliament has set 2025 as the target year for the country to go fully electric.
This is why electric vehicle data from Norway if often used as an indicator for the prediction which models and manufacturers will excel in a world in which electric vehicles become the norm. There is also no local player, which means the Norwegian EV market is not skewed like some other countries like France where the Renault Zoe reigns supreme.
As I mentioned in my previous SA article on Tesla (TSLA), its Model 3 always performs poorly in Europe during the first month of each quarter, with a big push coming in the third month.
Well, the Model 3 just lost decisively in Norway in September with the Volkswagen ID.3 getting 77% more sales.
The EV market in Norway
According to data from ElbilStatistikk, the top three best–selling EVs during the month of September were ID.3, Model 3, and Polestar 2 with 1,974, 1,116, and 928 units, respectively.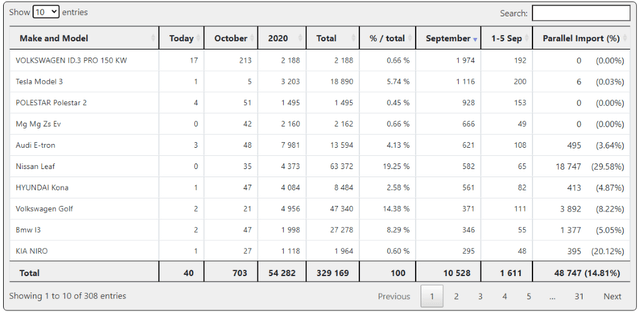 (Source: ElbilStatistikk)
October is starting even better for the ID.3 with 213 units sold so far. The Model 3 has just five, but this is normal as Tesla usually performs poorly in the first month of each quarter as I mentioned.
However, 2020 YTD is also being dominated by another VW model, the Audi E-tron. And the Model 3 will be surpassed by the ID.3 in around three weeks at this pace.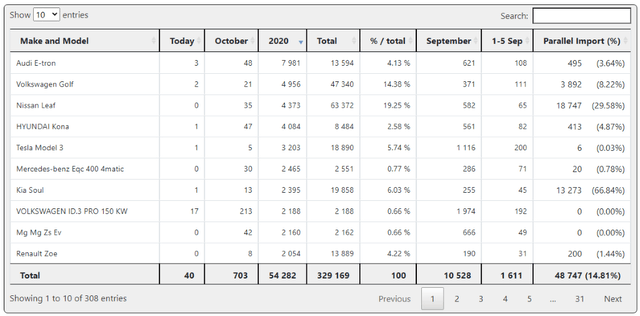 (Source
…
Read the rest