Taiwan Semiconductor Manufacturing Company: An Undervalued Market Leader With A Multi-Year Growth Runway (NYSE:TSM)
The Taiwan Semiconductor Manufacturing Company Ltd. (TSM) is the world's first and largest dedicated semiconductor foundry. It is also the lead player with a market share estimate of between 51.5% and 53.9%. In distant second place is Samsung Electronics (OTC:SSNLF) (OTC:SSNNF), with an estimated 17.4% to 18.8% share of the market. What makes TSMC unique is that it has managed to stay ahead of the pack since it was founded in 1987, and it continues to invest heavily in advanced wafer technologies and processes to maintain its lead and strengthen its position in a growing segment.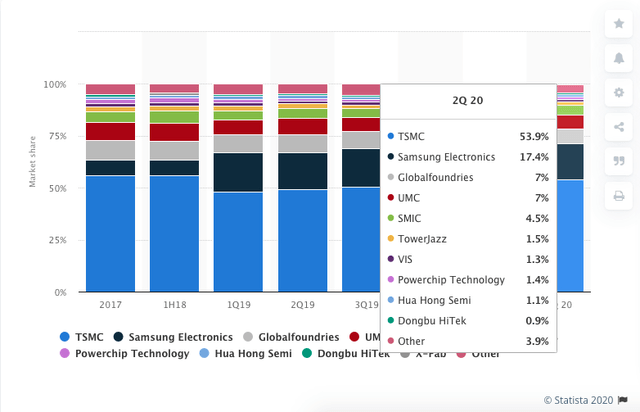 Source: Statista
How Big is the Foundry Market and How Fast is TMSC Growing?
The global semiconductor foundry market is projected to grow from around $42 billion in 2019 to over $62 billion in 2025 at a CAGR of 6.75%.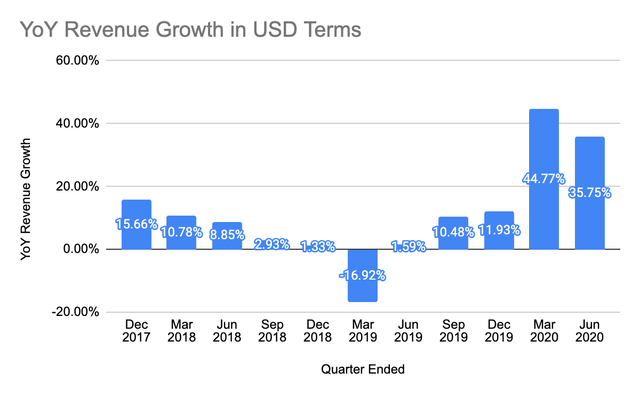 By comparison, TSMC grew its Q2-20 revenue by 28.9% and H1-20 revenue by 35.2%, both over their prior periods in terms of NT$ (New Taiwan dollars.) Although there was a prolonged decline until Q1-19 in quarterly YoY revenue growth, positive growth returned in Q2-19 and double-digit YoY revenue growth has been reported since Q3-19 in NT$ terms. It's clear that TSMC is outperforming the overall market by a significant margin in recent quarters, specifically in H1-20.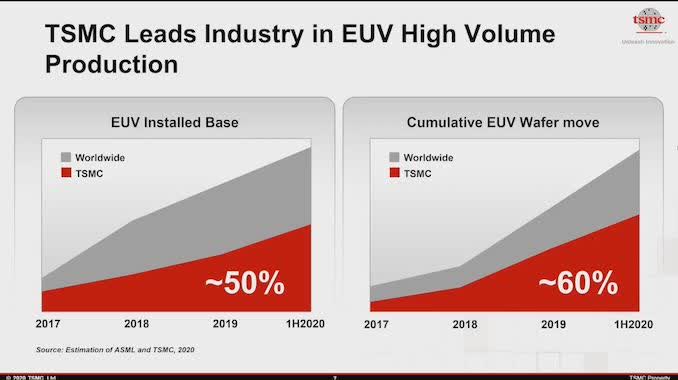 Source: AnandTech
As of H1-20, TSMC had the highest EUV or Extreme Ultraviolet installed base at 50%, as well as 60% of global wafer capacity, which shows its dominance of the semiconductor foundry market.
Short-term Growth Indicators
H2-20 is also shaping up to be a period of strong revenue growth, and there are a couple of reasons for this:
First of all, Apple, Inc. (AAPL) has tapped TSMC's entire 5nm capacity for its A14 Bionic chip in the upcoming iPhone 12 and other devices, in addition to future
…
Read the rest