IPO Update: InMed Pharmaceuticals Readies IPO Uplisting (Pending:INM)
Quick Take
InMed Pharmaceuticals (INM) intends to raise $10 million from the sale of common stock and warrants in an uplisting / Nasdaq IPO, according to an amended registration statement.
The company is developing cannabis-derived treatments for skin and eye conditions.
INM is still at a preclinical stage of development and is thinly capitalized; the IPO may be more suited to long-term hold institutional investors, so I'll watch the IPO from the sidelines.
Company & Technology
Vancouver, Canada-based InMed was founded to advance drug programs for epidermolysis bullosa [EB], a skin condition that results in layers of skin not sticking to each other and for glaucoma, an eye condition that damages the optic nerve.
Management is headed by president and Chief Executive Officer Eric Adams, who has been with the firm since 2016 and was previously CEO at EnGene and held senior roles at QLT.
Below is a brief overview video of InMed's recent announcement for treating EB:
Source: Business Television
The firm's lead candidate is INM-755, a cannabinoid-based treatment candidate for epidermolysis bullosa.
The drug is current in Phase 1 safety trials and management expects it to advance to Phase 1/2 efficacy trials in 2021.
The company's second candidate is INM-088, a cannabinoid treatment for glaucoma and management expects it to enter Phase 1 safety trials in 2021.
Below is the current status of the company's drug development pipeline:

Source: Company S-1 Filing
Investors in the firm have invested at least $70 million.
Market & Competition
According to a 2019 market research report by Technavio, the global market for epidermolysis bullosa is expected to grow by nearly $305 million from 2019 to 2023.
This represents a forecast CAGR (Compound Annual Growth Rate) of almost 5% from 2019 to 2023, as shown in the chart below: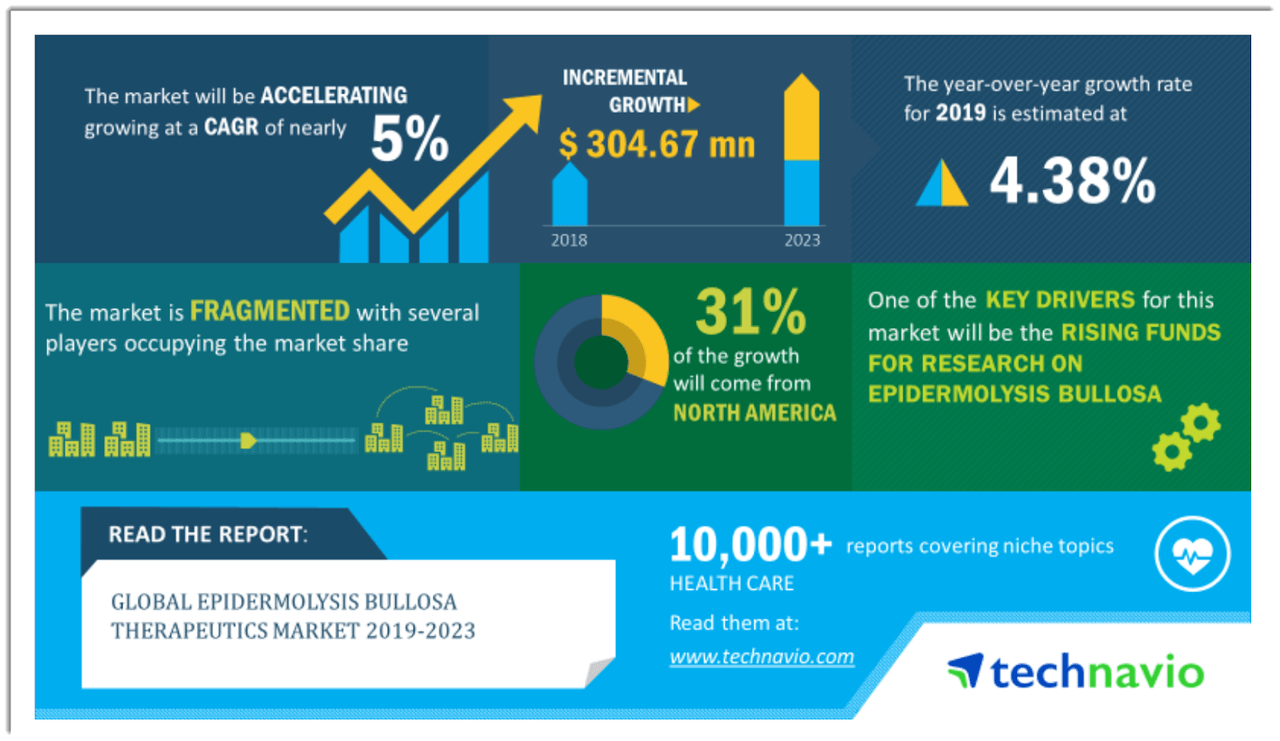 Key elements driving this
…
Read the rest