Warning: this article contains details that some readers may find distressing.
Six years ago, Jane was able to escape from domestic violence. She had been working tirelessly to support her children and a husband who claimed to have no money. When she left, she discovered he had been earning more than $250,000 a year.
"I had become so tired and so browbeaten just through the process of managing it day by day that I thought, how do I move myself out of this situation?" she says. "It took so much energy to actually pick myself up and take my children."
Like many victims of family violence, Jane appeared on paper to have it together. She is a former dean of a university, and has a master's degree. But in private, she was subject to years of financial, emotional and physical abuse that left deep scars on her family.
"I had to stop working because I had a traumatised daughter," Jane says. "Even now, she still has moments where her trauma becomes so much it is unmanageable. The impact of the financial abuse permeates through everything."
Australia's domestic violence laws repeatedly fail victims of abuse. The understanding and management of trauma – suffered by parents and children – is lacking.
For Jane, financial abuse meant she had no choice but to work herself to the bone, frightened by the fallout if she didn't. Her solicitor husband had withheld his high earnings and left Jane to manage the strain of supporting the household.
"Psychological abuse and financial abuse are part of the same cycle," she says. "I actually collapsed and had to go to hospital because I had absolutely flogged myself, working incredibly hard with two small children. After we separated, and I received the child support statements, I realised that while I'd been working so hard, he was earning more than a quarter of a million dollars a year."
Money is a significant factor in domestic violence: up to 90% of people who seek support are also experiencing financial abuse. The PwC report, A high price to pay, found 49.5% of women have experienced violence, partner emotional abuse or stalking since the age of 15, and estimates the cost of violence against women to be $21.7 billion a year.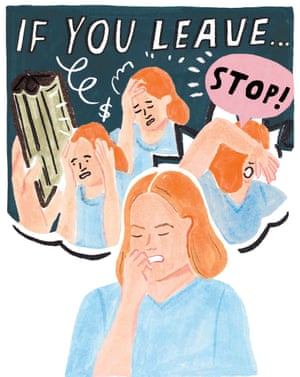 "Most of that cost is borne by victims themselves," Jane says. "I work at a women's centre, and the overarching issue with many of those women is finance."
Financial abuse comes in many shapes and forms. Some victims have their income taken from them, controlled by a partner in the form of an allowance, or have their spending heavily scrutinised. Some are punished for buying certain items or excluded from making financial decisions.
Crucially, many are left without access to money they could use to escape.
"Women still living with domestic violence don't leave because they can't leave – there just isn't any money." Jane says. "We can give advice on how to manage finances but the bottom line is there's just not enough money. There's not enough money to survive after you've gone through domestic violence and a family law system that won't fight hard for you. The systems that manage it, and the leaders within those systems, need to be reviewed."
Jane says the ongoing impact of domestic violence and financial abuse is significant, and finding sustained help is hard. "One of the things we do really badly is looking at the point of incidence and only supporting that initial process of removal and management. We're good at intervention and stabilisation, but very bad at development and creating security."
Jane feels the residual effects of domestic violence still, six years later. "I have had a knife held to my throat, I've been strangled. My ex-husband threw my son across the room. He would say to me, if you leave me, I will hunt you down and shoot you like a dog.
"That trauma stays with you. Even when you have therapists managing your triggers, it still comes back."
Creating systems for long-term independence is critical. "The greatest thing for survivors of domestic violence is to get support, and it's so hard to get on a continual basis," Jane says. "When you're fighting for your financial freedom, when you're fighting for the rights and safety of your children … when someone's standing with you, you do feel just that little bit stronger."
If you or someone you know is affected by domestic violence, please call 1800 RESPECT (1800 737 732) or visit 1800RESPECT.org.au. In an emergency, call 000. If you are concerned that you or another man are being abusive, call the Men's Referral Service: 1300 766 491.
CTA: The Commonwealth Bank is committed to starting a national conversation on financial abuse. Find out more about Next Chapter; a program to help victims and survivors of financial abuse achieve long-term independence.
This content has been produced in proud partnership with the Commonwealth Bank and Guardian Labs Australia.